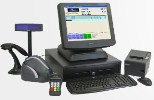 Point-of-Sale POS till stock control

Our Point-of-Sale systems are easy to use, highly functional andversatile. They can be controlled via a regular Windows keyboard or via aprogrammable keyboard and include many useful features, such as searchfunctions, calculation functions and supervision functions. Powerful features allow you to customize the screen layout for easy integration with touch screens.
The sales screen is fully customizable and can function without the use of a mouse. Fully programmable keyboards, even on the normal 101/3 Windows Keyboard. ODYSSEY from c-pos even allows you to create fast PLUs or even fast department keys on normal Windows XP keyboards.

The screen layout is composed of a user-friendly graphical user-interface (GUI) (See top image), which resembles those of a cash register. More than one cashier can use the system, each with his or her own individual cash drawer. This allows you to deal with more than one customer at a time, which makes the procedure smoother and less
time-consuming.

Point-of-Sale POS Our Point-of-Sale systems are easy to use, highly functional and versatile. They can be controlled via a regular Windows keyboard or via a programmable keyboard and include many useful features, such as search functions, calculatio